Dental Hygiene and Periodontal Health
When you visit our office we make sure that you receive the highest level of service and ensure that our dental work is of the highest quality. To ensure that you maintain great oral health, this level of quality needs to extend into your personal oral hygiene routine. We can help you establish a dental hygiene routine that will keep your teeth healthy and white. If you have any questions about your current hygiene plan please ask us.
Your teeth are not the only important part of your mouth. Your gums are essential to oral hygiene as well. We can provide periodontal cleanings and treatment, or refer you to one of our recommended specialists. Please let us know if you have any questions.
Oral Cancer Screenings
Oral cancer screenings are a very important part of the dental visit for the patient. With the advances in modern technology, we are now able to pinpoint the start of a potential problem much earlier in its evolution. The ability to do so is extremely important in being able to treat any issues prior to them becoming a major irreversible problem.
 Certain lifestyle choices can have a great impact on the health of tissues and your overall health in the mouth. If you are a smoker or heavy drinker, make sure to get regular screenings when you visit the dentist.
Gum Disease
Have you recently eradicated gingivitis or periodontal disease from your mouth and gums? If so, then you are feeling good about your mouth and gums. Your teeth have no plaque and tartar and you won't need to visit your dentist again for another year, right?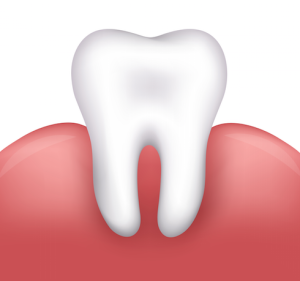 Wrong!
Many patients are not aware that periodontal maintenance is the only sure way to keep gum disease from returning. Periodontal maintenance is regularly performed at certain intervals after procedures such as scaling and root planing. Periodontal maintenance includes the removal of plaque and tartar, scaling and tooth planing and polishing. We will determine the frequency the periodontal maintenance is needed.
Periodontal (gum) disease is insidious. It is an infection of the gums that starts out as plaque, an opaque film on the teeth that hardens to form tartar. As tartar accumulates, it harbors bacteria that attack the soft tissue around the gums. This is the early stage of gum disease known as Gingivitis. Left untreated, Gingivitis becomes Periodontitis which ultimately destroys the tissue surrounding your teeth AND the bone that holds your teeth in place. Except for bad breath and gums that bleed, there are very few early warning signals. The disease advances silently, often without pain, and before you know it, you are losing your teeth and you don't know why.
Tooth loss is only the most obvious indicator of gum disease. Scientific research has discovered linkage between gum disease and stroke, heart disease, diabetes – even an increased risk for pregnant women. When your gums become diseased, your entire immune system is weakened.
Please be sure to schedule and keep your appointments with the hygienist.
Scaling and Root Planing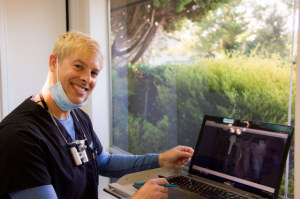 Gingivitis is a degenerative disease that left untreated, will cause significant tooth and gum deterioration.  Just the word gingivitis can strike panic in a patient's mind. The reality is that the treatment is simple and performed right in your dentist's office.
Plaque and tarter that sits on the teeth provides an environment, which allows bacteria to thrive and multiply.  The bacteria cause the gums to become inflamed and bleed. The condition becomes more noticeable when you brush your teeth or sometimes when you eat. These are signs of the early stage of gingivitis. Gingivitis is easily treated by having the hygienist scaling and polishing the teeth.  If gingivitis is left untreated, the condition will progress and the roots will need a planing. The difference between scaling and root planing is simple. Scaling is the removal of the dental tartar from the tooth surface. Root planing is the process of smoothing the root surfaces and removing debris.
As a non-surgical procedure, scaling and planing is performed without any anesthesia, in the dentist's office. While the procedure is usually painless, advanced stages of gingivitis may make it necessary to numb the area for complete comfort. Deep scaling and root planing is usually broken down into one section of the mouth per appointment. This allows for adequate healing time, and reduces the time for each appointment.
Post-Op
After this procedure your gums will probably be slightly sore and irritated for a few days. You should rinse your mouth with warm salt water (1 tsp salt/8 oz water) 2-3 times a day. This will relieve the pain and cleanse the area. Brushing and flossing should be continued right after the procedure, but you should brush gently so that you do not further irritate the area.
Arestin: Fighting infection where it starts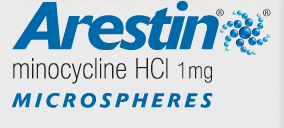 You may have heard about gum disease, also known as "periodontitis" or "periodontal disease." Maybe you know that you have this infection. But do you really know the difference between periodontal disease and other types of complications that can affect your mouth, such as gingivitis?
Do you know why it's so important to treat periodontal disease-and why brushing and flossing alone won't do the trick?
Most importantly, did you know that periodontal disease is today's #1 cause of tooth loss among American adults?  Data suggest a possible association between periodontal disease and other health issues including cardiovascular disease, diabetes, and preterm low birth-weight babies.
ARESTIN® (minocycline hydrochloride) Microspheres, 1 mg is an effective antibiotic treatment that comes in powder form. This powder is placed inside infected periodontal pockets just after your scaling and root planing (SRP) procedure to kill the bacteria in those deeper pockets.
Teeth Grinding and Clenching
Many people are afflicted with bruxism, or teeth grinding. Some people may do this consciously during the day, but it is a larger problem at night while you are asleep. Grinding and clenching your teeth can damage enamel and tooth structure, wear down teeth, cause jaw pain, or irritate your gums. The noise from teeth grinding can also disturb your spouse's sleep if loud enough.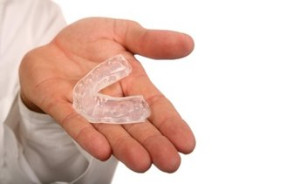 If you grind your teeth you should consider a night guard. The night guard, which is very similar to a mouth guard worn by athletes, provides a barrier between your top and bottom teeth while you sleep. All night guards are custom fitted for comfort and to allow for proper breathing. We will take an impression of your teeth and have the night guard created just for you. Night guards are very durable and can be used for many years.
There are also some things that you can do to try to stop teeth grinding. You can try to train your jaw to be free and easy rather than clenched. Refrain from chewing gum or on other objects like pens. You should also avoid alcoholic drinks and drinks with caffeine, as these can increase the likelihood you will grind your teeth. If you suspect you might be grinding your teeth at night set up an appointment with us today.
Mouth Guards
Mouth guards are an essential piece of equipment in contact sports. They should be worn by athletes of all ages who participate in sports such as: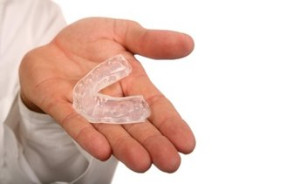 Football
Hockey
Lacrosse
Wrestling
Basketball
Baseball/Softball
Soccer
…any sport where contact is a possibility.
Wearing a mouth guard helps prevent against structural damage to your teeth and jaw and also helps prevent injuries such as lacerations to your cheeks, tongue, and lips. Mouth guards have also been shown to help decrease the risk of concussions.
Mouth guards are available in most any sporting goods store, but you should be careful when purchasing a mouth guard. Mouth guards like this do not offer the best level of protection. They are also usually ill-fitting and uncomfortable.
For the highest level of comfort and protection, you should visit us for a custom mouth guard fitting. A custom mouth guard is created specifically for the optimal protection of YOUR mouth. It is created with thin plastic that is hardened to protect your teeth. The thinness of the custom mouth guard allows for easy breathing and also allows for easy communication (especially important for you star quarterbacks calling out the signals).
See us today for a custom mouth guard to protect your teeth and ensure that you maintain the highest level of performance on the field, court, or rink.